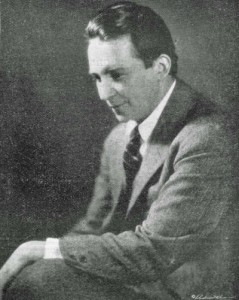 Dirk Foch (1886-1973) is born in the Dutch East Indies to Dutch parents with the last name spelled as 'Fock'. The first 12 years of his life in the city of Batavia, young Dirk absorbs his first musical impressions, as can be heard in the 'Java Sketches for Piano' that he composes in 1944 in the U.S.A.
Back to the Netherlands
In 1898, his family returns to the Netherlands and Foch takes his first steps in music: he plays the violin and writes compositions. Against the wishes of his father, counsel and statesman Dirk Fock Sr. (1858-1941), he opts for a career in music.
Violinist under Gustav Mahler
Foch leaves for Berlin, where he receives an education in conducting by Karl Muck and Artur Nikisch, and violin lessons by Anton Witek. The conductor Nikisch offers him a chance to play in the Berliner Philarmoniker and concertmaster Witek assigns him the place of first violinist. In the orchestra he plays under famous conductors such as Gustav Mahler.
Directing opera
Soon Foch develops his direction skills and becomes first conductor to the Kurfürsten Opera in Berlin, and the Mülhausen Opera a year later. Foch conducts, barely 26 years of age, complete opera's by Wagner and Strauss.
From 1913 to 1917 Foch holds positions at orchestra's in Götenborg and Stockholm, followed by frequent performances with the Concertgebouw Orchestra in Amsterdam and the The Hague Philharmonic (Residentie Orkest).
New York
In 1919 Foch continues his career in New York, conducting the Philharmonic Orchestra in the popular Stadium and the National Symphony Orchestra in the Carnegie Hall. In 1922 he is co-founder and first conductor of the American Orchestral Society, an institution that permits young musicians and conductors a chance to gain high level experience. That same year Foch (who let's himself be called Foch now) introduces the music of his friend Darius Milhaud to the U.S. Next he becomes first conductor to the New York City Symphony Orchestra and serves as guest conductor with the New York Philarmonic, The National Symphony and the St. Louis Orchestra.
Back to Europe
In 1924 Foch returns to Europe at the request of Richard Strauss, where he becomes first conductor in Vienna of the Wiener Konzertverein. Until March 1927 he conducts numerous concerts. A programme dedicated entirely to Igor Strawinsky, culminating in a solo performance on piano by the composer himself, becomes a huge success. Foch leads special direction classes at the Hochschule für Musik, directs concerts for students and directs opera's. From Vienna he performs guest directions in Berlin, Budapest, Milan, Paris, Rome and again in Amsterdam and The Hague.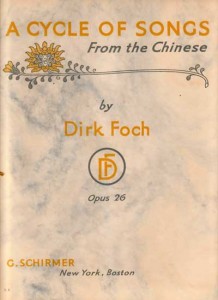 Focus on composition
In the 1930s Foch spends a long period in Paris, directing the Orchestre National on occasion but focuses mainly on composing his own music. In 1940 Foch leaves for the U.S., obtaining American citizenship.
In 1959 Foch and his wife Christine Suze Moltzer settle in Orselina in Switzerland, where Foch passes away in 1973. He is survived by Nina Foch, his daughter from a previous marriage, a famous Hollywood actress (Leiden, Netherlands 1924-Los Angeles 2008).